Things you learn while working on cars.
1. If you're crawling underneath a car, be aware that there are all sorts of little flying bugs that don't get high up off the ground. If one of them flies into your ear, it's best not to try to poke it with your finger if that finger is covered up with dirty black grease.
2. If you crawl out from under a car all sweaty and grease-eared with your mop of hair hanging down and plastered to your forehead, and your son comes up to you and says, "Hey, Dad! Your hair looks cool combed down like that!" don't believe him.
3. If after your labors and travails are completed and you walk into the kitchen looking like this: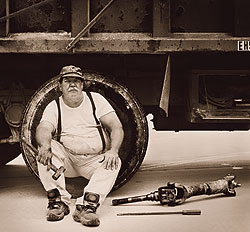 ...and your daughter comes running up with a big grin on her face and lets you in on the secret that Mommy thinks you look sexy when you've been doing manly mechanicking work and are all hot and sweaty and greasy-eared, don't put much stock in it. Yes, she probably does get a little flutter when in the presence of a goaty-smelling he-man, but this is only in the abstract. Were you to attempt to clutch Mommy's bits and pieces with your besmutted meathooks, she will slap at you and tell you that you're dirty and stinky.
BUT, at least the car is now operational again, with a new center bearing and center bearing bushing, and center bearing support spring, and center bearing support spring cup washer. Downside? Well, there's still a lot of growling noise, which is probably the result of a bad bearing in the end of the transmission.
But that's a task for another day.
Posted by Terry Oglesby at July 17, 2007 07:48 AM