Well, I tried.
Tried my best to let by-gones be by-gones and make nice with all our British visitors, but none of them (as of yet) have stayed long enough to leave a comment.
Therefore, although I don't mean to taunt and such, I must make note that today marks a fateful anniversary--On April 19, 1775,
British and American soldiers exchanged fire in the Massachusetts towns of Lexington and Concord. On the night of April 18, the royal governor of Massachusetts, General Thomas Gage, commanded by King George III to suppress the rebellious Americans, had ordered 700 British soldiers, under Lieutenant Colonel Francis Smith and Marine Major John Pitcairn, to seize the colonists' military stores in Concord, some 20 miles west of Boston.

A system of signals and word-of-mouth communication set up by the colonists was effective in forewarning American volunteer militia men of the approach of the British troops. Henry Wadsworth Longfellow's poem "Paul Revere's Ride" tells how a lantern was displayed in the steeple of Christ Church on the night of April 18, 1775 as a signal to Paul Revere and others.

At Lexington Green, the British were met by 77 American Minute Men led by John Parker. At the North Bridge in Concord, the British were confronted again, this time by 300 to 400 armed colonists, and were forced to march back to Boston with the Americans firing on them all the way. By the end of the day, the colonists were singing "Yankee Doodle" and the American Revolution had begun. [...]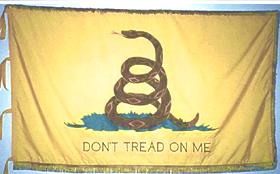 I do still like Great Britain, though.
Posted by Terry Oglesby at April 19, 2006 02:52 PM