My, aren't YOU a hardy soul!
Coming in here, with the full knowledge that I've quit posting anything.
Well, anything except stuff like this--

Office pictures, again! This was from last Friday after I'd finally gotten a bit of free time to finally get all my kid artwork installed. (It's dark outside due to a thunderstorm rumbling by at the time.)
Anyway, here's one: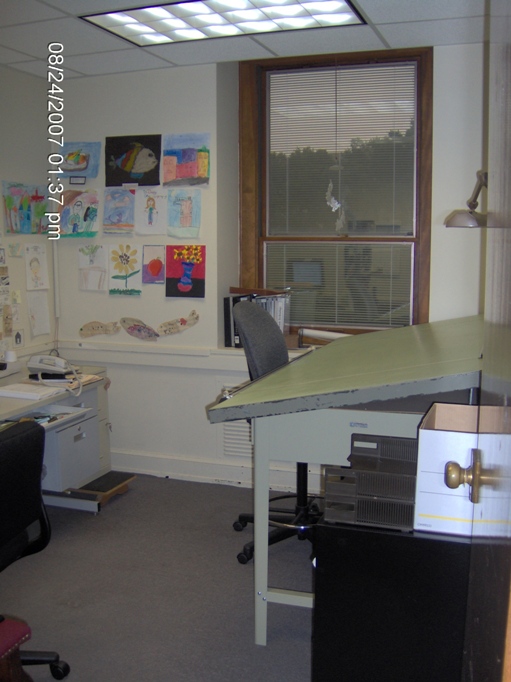 And the other: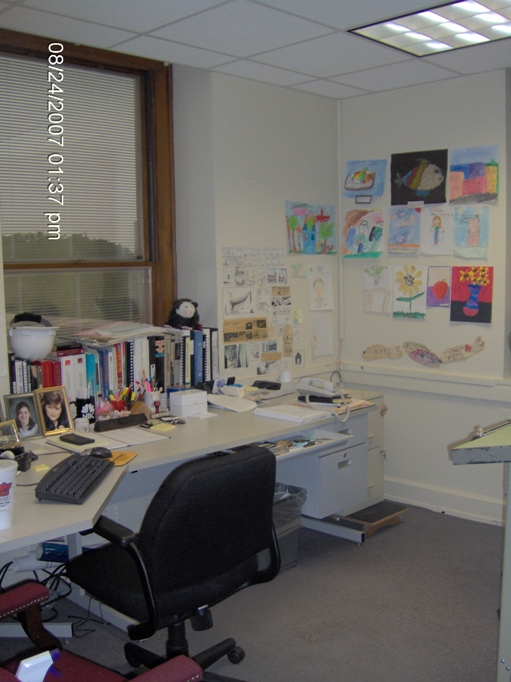 As for the new job, I like it, I think. It's still a bit hard to get a handle on some things like procedures and junk. I have my own recollections of how an architect's office is supposed to run, and some of those still work, but some don't. And there's this whole thing of being really busy one minute, and then getting gunshy about something else that has to be done immediately, and then it never comes around, so you relax a bit, and then BAM! something else hits the door. It'll take some getting used to, that's for sure.
As for the goings-on at Casa de Possum, pretty much the same as it's always been, although with the added hoopla of trying to get a new fence built. The kids have been bugging me forever to get one so we can get a doggy, and we've finally managed to be able to afford something, so I've been trying to get folks lined up to survey the property lines, mark the utilities, and give us a somewhat reasonable price, and I've also got to get the silly thing approved by our neighborhood association, which could be a pain in the kiester.
Anyway, now I've got to go do something again. Thanks for dropping by!
(By the way, the sandwich of the day is smoked Cajun sausage on home-made cathead biscuit.)
Posted by Terry Oglesby at August 29, 2007 11:36 AM