Sexy Car Redux
As you no doubt recall, I had a post earlier about some Brit magazine's list of sexy cars, some of which I agreed with, but the majority--not.
In a nice little surprise, my new issue of Automobile arrived yesterday, and lo and behold--their cover story was about the 25 Most Beautiful Cars Ever Made.
Now, "beautiful" is a slightly different set of criteria, at least to me, than what makes a car "sexy," but nevertheless, it was interesting to see that of the list I made up of cars that I like--
Jaguar E-type
Lamborghini Miura
Ferrari 365 GTB/4, S/4 Daytona
'63-'67 Corvette
Ford GT40
Mercedes-Benz 300SL
Maserati Ghibli
Lotus Elite
and a late addition of the Cord 810/812
--every single one of them was in the Automobile list, with the exception of the GT40. They also managed to grab a few from the other list that I thought deserved attention, such as the Bentley Continental, and my suggestion of the 1940 Lincoln Continental.
Pretty nifty list of other cars in the Automobile article--I can't remember them all, but there were the ones mentioned above plus the Jag XK-150 (which I'm not particularly fond of), the Jag XJ-6 (which I am), the 1963-65 Buick Riviera (almost bought one of those long ago), the various Chrysler Airflows, the slab-sided 1961 Lincoln Continentals (stunning, but not quite sexy in my mind). Anyway, I didn't have a disagreement with any of them, but one niggling little detail caught my eye.
IN the blurb abuot the Ferrari 365GTB/4 Daytona, it was mentioned that its design influenced many different cars, including the Rover SD-1 and the Chevy Monza. Well, I might give some credit for the Rover's front side-marker light that sweeps back toward the front wheel, and the shallow groove along the side, but actually there is another Ferrari that is much more of an inspiration for both of the cars, expecially if you look at the vertically slatted B-pillar and the upward sweep of the sill of the rear quarter window--the 365GTC/4.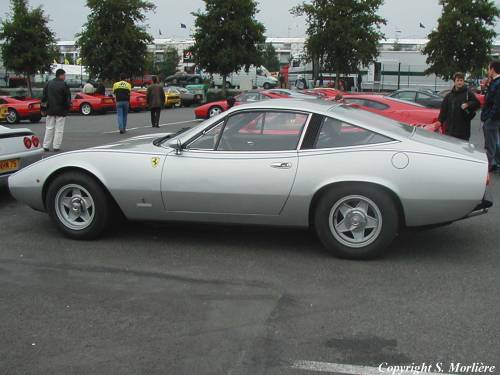 Here's an unfortunate looking Chevy Monza Spyder for comparison--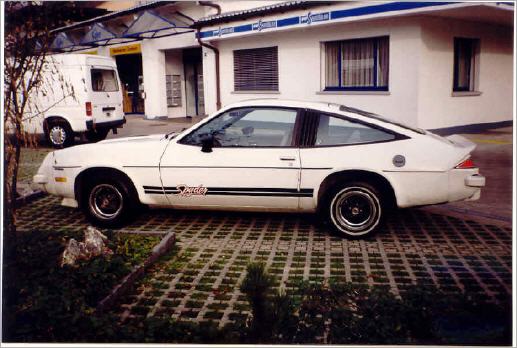 Interesting thing about that name--it had a lot of fond memories to it based on Chevy's Corvair Monza Spyders of the early-'60s. Monza meant sporty turbocharged power, and Spyder meant convertible top. The later model Chevy of the same name was strictly a coupe (which made the Spyder part sorta silly) and all of the blazing power of other mid- to late-'70s cars. I.e., precious little. Which made the whole "Monza" part seem a bit silly, too. That, and the fact that under the skin it was the same as a Vega.
But hey, it was the age of disco.
Posted by Terry Oglesby at August 3, 2006 08:46 AM