International Visitor Day!
Since I still have a great honking wad of work to do today, and since I still feel compelled to provide exciting and innovative entertainment for all both of my remaining readers, I thought it might be fun to play a little game with those of you who come to Possumblog from other places. This allows all of YOU to provide lively content down in the comments, while I go off and do paying work.
SO, here we go--IF YOU, Kind Visitor, hail from the nation that has this flag: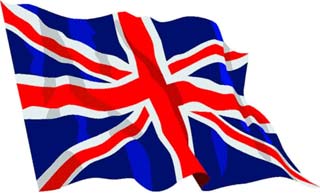 leave a note below to let us know you've been by so we can all say hello. And feel free to tell us a bit about yourself (although please, nothing prurient or discomforting).
Hard to believe, but it has now been twenty years ago, when I, a bright-eyed third year architecture student was blessed with the opportunity to spend a spring quarter studying in Europe. Our first stop was London, where we spend the first day at a near-sprint trying to see as much as possible. The first night produced a severe bout of constipation, for some reason. Just as well--our hotel was furnished with the fine quality Izal Medicated Toilet Paper. Fine breakfasts, though.
From there, there was a trip to Cambridge, then a couple of days later a long train ride to Edinburgh for a few days, with a side trip to Glasgow. Highlight of Scotland was the discovery of something called Spud-U-Like, a take-away placed devoted to the humble potato. One of the girls in the group bought a baked potato that supposedly came with sour cream. Upon returning to our eating area, she opened up the foil-covered lump she'd been given and found a large mass of what looked to be an exploded cow udder.
The second best highlight of the trip was when we were near the coast and heard the sudden roar overhead of two FB-111 "Aardvarks," flying low and hot. We had no idea at the time that they were rehearsing for Operation El Dorado Canyon, the eventual bombing of Libya and of Moammar Gaddafi's compound.
Anyway, my trip to the UK was quite pleasant, aside from the intestinal knotting, so if you're from there, thanks for not kicking me out and for being marvelous hosts.
So, let's hear from you!
Posted by Terry Oglesby at April 19, 2006 08:53 AM