Trying to hang on to one tired fad just a bit longer...
itz
lol iron bowl!1!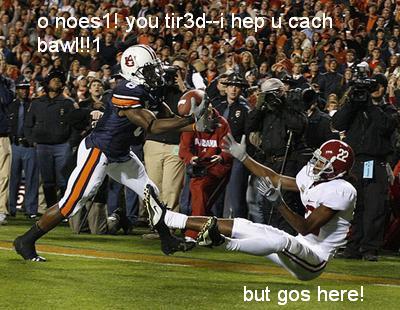 pwnd1!

Yes, I know very few people outside the state of Alabama care about this, but it sure makes being an Auburn fan a lot easier for the next 364 days.
In other news, Thanksgiving was mighty fine, and we got a new fake tree from our good friend Martha Stewart, who saw fit to put them on sale on Thursday, and I replaced the alternator in the Volvo Saturday because it was down to its last few electrons, and I bought myself a 4G flash drive for only 18 bucks at Staples and now I am all over that wacky mp3 craze the kids are wild about, and have been playing them in my new cheapo Best Buy car stereo with the USB port in the front, and I'm all sorts of busy at work, and it rained last night.
So, you know--things are pretty okay, as things go.
And how was your Thanksgiving?

(AP Photo via al.com, by the way)
Posted by Terry Oglesby at November 26, 2007 12:43 PM