In the Mail...
Was minding my own bidness last week when I got a nice e-mail from a young lady named Rachel Patton with Turner Publishing asking if I'd like a complimentary copy of the book Historic Photos of Birmingham, by James Baggett, the head of the Archives Department at the Birmingham Public Library.
Apparently Ms. Patton hasn't heard that I shut this place down many years ago, since she wrote that she was sending the book for possible review consideration hereon. But hey, I'm a sucker for free stuff, especially picture books. So, I got Chet to come in from rewiring the transformer and let her know I'd be happy to receive the book and to offer my opinion.
A couple of days later, a big package was sitting at my place at the kitchen table, although I do wish I'd been looking for the shipment, because it apparently arrived a day earlier and sat on the front porch and got wet in the recent rains we had. Luckily, the book wasn't ruined, although it was a bit wavy around the edges.
The promotional blurb sent by Ms. Patton said, "This 10 x 10 book tell [sic] the pictorial narrative of Birmingham through culled-from-the-archives photography and informative text and captions."
Now most of you know I have a great affection for history and Birmingham and photos and historical photos of Birmingham, so I've got to tell you I'm already predisposed to give this thing a good review.
However.
I have to say that unless you are already well-steeped in Birmingham lore, you will probably be less than satisfied, unless you just like looking at old pictures for the sake of looking at old pictures. The captions are very short, and assume that the reader appreciates the history associated with place names such as East Lake, Avondale, Woodlawn, Ensley, or Lakeview, or Highland Avenue, or 1st Avenue and 20th Street, or with the names of the people such as Tutwiler and Jemison.
Each chapter is devoted to a different time period beginning from the City's founding in 1871 (although the earliest known photo is from 1873), and begins with a short introduction by Mr. Baggett. Now, again, these names and places are already familiar to me, and I dearly loved looking at the wealth of detail in these photos. But even if a picture IS worth a thousand words, photos this old, of people or places you might not know, means that a great deal of those words could just as well be in a foreign language.
I found myself longing for more exposition, even though I realize this isn't the point of the book. But in not providing a greater amount of textual clarification, it means that this book (or one of the 60 other similar titles offered by Turner) is destined to be limited in its appeal to the hometown crowd.
Second, although I appreciated the chapter breakdown by time period, within each chapter it seems as though more thought could have been directed at obvious groups of subjects. There are several photos of old motorcycles, for instance, that really begged to be more closely associated with each other. In another example, there are more than a few photos of the old St. Vincent's hospital and its staff. It seems a shame they weren't less randomly distributed--again, reading this as if I were a complete stranger to Birmingham, I might not have immediately understood they were related.
Another possible way of breaking down the subject was geographically. What was known in the old days as "The Birmingham District" was, and still is, a big, BIG area, and the randomness of the display of the pictures makes it difficult to grasp just how large of expanse of land is covered. I know it and appreciate it, but only because I'm already very familiar with where the locations are.
Having said all that, I still thoroughly enjoyed perusing the book. It really is amazing to see how quickly this old place sprung up from farmland to a real city. Another thing that's odd to me is just how big it looked. I don't know if it was the type of equipment used or what, but it's odd to look at photos from then and companion contemporary photos. The old grainy black and whites always look like they were taken in a huge metropolis, and the modern photos always make the place seem much smaller. And again, I just love looking at the details--the way a man wears his watch fob, the signs in the background, the piles of manure in the streets, the barely visible lettering on the fourth floor window, the old Studebakers and Nashes. Good stuff.
Another caveat, though. If you like old photos of Birmingham, it's really hard to go wrong by spending an afternoon browsing through the online digital collection of the BPL Archives. Many of the photos from the book are from this resource, and they are grouped and arranged and categorized in a way that makes gleaning the history and context of the photos much easier and more rewarding. The late (and perpetually mourned) Terminal Station gets its own section, even though I only recall seeing a glimpse of it once in the book. The book does present a short peek at Birmingham's once extensive network of public streetcar lines, but the website does it much more justice. And the Archives also maintains a blog site where they post recent updates to the collection.
All that's missing is that wonderful smell and portability of a book. Although it's worth remembering that these photos also exist in actual, real, holdable form. As someone who's made several treks across the park, I can attest that the Archives are a super place to spend time. The staff is helpful and friendly, and you can look through the old photos and clippings till your heart's content, and you can even order reproductions of just about anything for a nominal fee. One of my favorites is a reprint of O.V. Hunt's "Heaviest Corner on Earth" that I keep over in my history bookcase in the bedroom.
Anyway, back to the subject at hand. Historic Photos of Birmingham would be a good gift for anyone with a soft spot for Birmingham's photographic past, or anyone on your list who enjoys historic architecture. Just be aware that it's far from the whole story of this place, and that there are some companion resources that make reading it much more informative.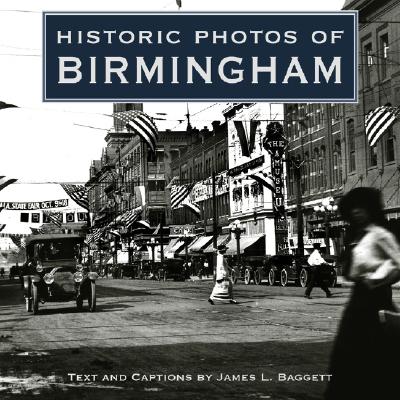 ISBN: 1596522542 / Publisher: Turner Publishing Company (KY) / Date: June 2006 / Page Count: 197
So there you go.
Posted by Terry Oglesby at November 19, 2007 11:52 AM