Awwww!
Well, that's about the oddest looking Eskimo spitz I've ever seen.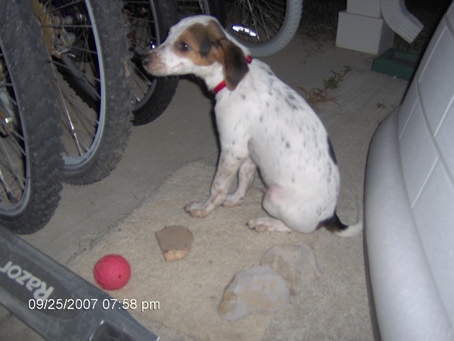 But how could I refuse the little girl who was going to have to pay for it? Rebecca's been doing volunteer work for the animal shelter that sets up shop at PetSmart, and this little pup came in a couple of weeks ago with a couple of littermates. It took up with her almost immediately and she wound up spending most of last Saturday and the Saturday before that sitting around holding it while it slept in her arms. And thankfully, her association with the shelter meant that she was able to pick up a new Dogloo for it free. It had been returned to PetSmart because it was cracked, so they were going to donate it to the shelter, but they don't use them, so the shelter's volunteer coordinator said Bec could have it for free. Which was nice, because it was one of the $150 models. So that was nice. Aside from it having a crack, which Daddy will have to fix.
ANYway, as for the puppy, it's some sort of beagleterrier, and it's relatively calm as such dogs go, and last night (its first night at Casa de Possum) it was quiet and didn't whine too much. And definitely didn't bark any. About the only thing that remains is for Rebecca to give it a name. Nothing has quite struck her yet, but I suppose it will come.
So there you go.
Posted by Terry Oglesby at September 26, 2007 09:57 AM