But before we get to that-- UPDATED!
--just a word to let you all know my family and I are safe. Why do I mention this? Because East Carolina's own Dr. James Smith saw an article in their local newspaper and thought possibly my house had been broken into:
Handguns, Bibles stolen

[...] A 69-year-old woman reported that several items were stolen from her house on the 200 block of Fairlane Road on Friday. Among the items were three handguns, six bracelets, 10 rings, 20 earrings, five necklaces and three Bibles. [...]
Although often mistaken for a 69-year-old woman, I don't live in the 200 block of Fairlane Road, and all of my handguns and Bibles are safe.
But we appreciate the concern for our well-being!
UPDATE: The lovely Jordana Adams (to whom I've never done ANYthing to warrant such attention) sends along the following with this advice: "You know if you didn't go out looking like the picture I'm attaching, you'd have fewer problems with being mistaken as a woman."
Well, EXCUUUUUUUUSE ME! But I simply cannot help the way I look. Click in the extended entry to see what Jordana's talking about.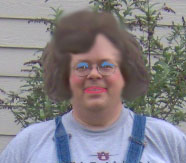 Posted by Terry Oglesby at February 19, 2007 08:38 AM