Oh, I know I'm no Mr. Blackwell, but still...
From Miss Janis who came by it via Miss Ann, this article from Rooters: Hillary Clinton should ditch the trousers: Versace
BERLIN (Reuters) - U.S. presidential candidate Hillary Clinton should tap into her feminine side and wear dresses and skirts instead of trousers, fashion designer Donatella Versace was quoted as saying on Thursday.

"I can understand (trousers) are comfortable but she's a woman and she is allowed to show that," Versace told Germany's weekly newspaper Die Zeit in an interview. [...]
Now, in the past I admit I have been more than unkind to New York's junior senator regarding her attractiveness, and most especially her fireplug-like lower legs (which indeed
require
covering to keep from damaging the retinas of unsuspecting bystanders).
But I have to say that besides me, there is probably only one other person LESS qualified to give advice to someone else regarding external appearance...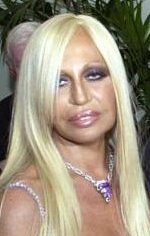 Posted by Terry Oglesby at February 8, 2007 11:18 AM