Well, there's one you don't hear every day...
Psycho killer raccoons terrorize Olympia
One wonders which group of Aggrieved-Americans will be the first to speak out about this bit of reportorial defamation--psychos, killers, or terrorists?
Anyway, seems Oly's got problems that even the Ledbetter boys would have difficulty handling. One thing worth considering--all you urban dwellers who might say something like this:
[...] "We used to love the raccoons. They'd have their babies this time of year, and they were so cute. Even though we lived in the city, it was neat to have wildlife around," he [Tony Benjamins]said, "but this year, things changed. They went nuts." [...]
--just remember that they aren't little humans, despite what years of Disney movies might have led you to believe. They're wild animals, and you need to leave them alone.
Or make them into a hat.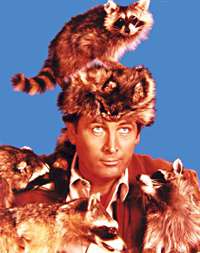 Posted by Terry Oglesby at August 22, 2006 10:16 AM