Okay, I admit it.
My level of gustatory sophistication is only about three notches above that of a tapeworm. I realize there are all sorts of foods and flavors out there in the world, and all sorts of acquired tastes, but let's be frank--they are really just too far above my ability to appreciate.
Snails?
Nah.
Sorry. I know--anything fried in butter oughta be pretty darned okay, but I'll let you enjoy them.
Baboons?
Again, I realize some people highly prize them (Mmmm--save me one of those lonnnnng drumsticks!) but I couldn't eat one.
Which brings us to another thing I just can't understand--Clamato. Did someone just decide one day as they were cleaning out the refrigerator that they should mix the leftover clam juice together with the last dab of tomato juice, then mistakenly leave it on the counter, then drink it by mistake instead of pouring it down the sink, and decide it was REALLY good? Or was it some kind of college prank that got out of hand? Was it a dare?
Who knows. But I have never found the idea of mixing the drainings of a disgusting-looking bivalve mollusk with tomato juice to be one of those things that I had to try. I actually like clam MEAT but the idea of clam JUICE is repulsive on several levels to me, and the admixture of the noble tomato does nothing to stop me from blanching at the very thought of such an elixir. I suppose there must be someone who likes it, because it never seems to disappear from the grocery shelves, but I can't think there are THAT many people who like it.
But then today, I saw something in the vending machine downstairs that went off the scale, something so far beyond my ability to comprehend it that I was simply at a loss--
New -- The Original ClamatoTM Flavored Tortilla Chips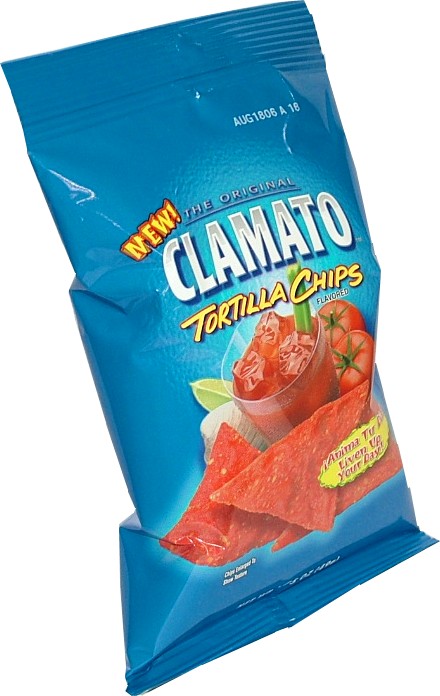 I didn't realize the humble tortilla really needed additional tomatoiness, or molluskity. Obviously, I had to buy a bag of them just to see what the attraction was.
Upon opening the bag, I noticed the chips were small, shiny, the color of fresh red meat, and had the bracingly revolting smell of clammy seaside tomatoes. The chips were relatively crisp, although I had to chew them as lightly as possible to keep from tasting them so much.
I think I like my chips without integral tomato flavor, and completely devoid of clam, but then again, I am a hopeless food rube. At least the bag was entertaining--
Bring flavor to your life! NEW ClamatoTM Tortilla Chips have the same unique, zesty flavor that you've come to know and love from Clamato®. With invigorating taste in every bite, you can liven up your day with new ClamatoTM Tortilla Chips!
!
At least now I can rest easy knowing I'll never have to eat any more of them, nor wonder if I was missing something by being left out of the next big food trend.
Posted by Terry Oglesby at May 31, 2006 10:10 AM