Yet more numismatic insipidness.
A smile for a nickel: Cheerful Jefferson on new coin
WASHINGTON (AP) — The U.S. Mint is trying something different after nearly a century of depicting presidents in somber profiles on the nation's coins.

The new nickel features Thomas Jefferson with the hint of a smile.

Mint officials unveiled the design yesterday in Washington. [...]
and
from the US Mint site
--
[…] The forward-looking 2006 nickel obverse (heads side) was designed by United States Mint Artistic Infusion Program (AIP) artist Jamie Franki of Concord, North Carolina, using the Rembrandt Peale painting of 1800, the year Jefferson was elected President. The new nickel obverse will be sculpted by United States Mint sculptor-engraver Donna Weaver. As on the 2005 nickels, the word "Liberty" in Thomas Jefferson's own handwriting will be inscribed on the obverse. […]

Jamie Franki's forward-looking image of Thomas Jefferson was selected from 147 designs submitted by the United States Mint sculptor-engravers and AIP artists from throughout the country. Franki also designed the reverse image on the 2005 American Bison nickel. […]
::sigh::
Here's the design--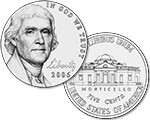 and here's the putative inspiration--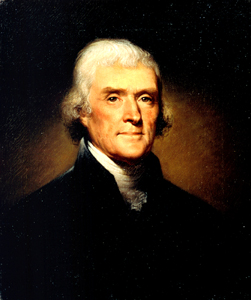 You know, I would really like for us to go back to having serious money, instead of stuff that looks like Chuckie Cheese tokens. And second, despite the appearance of high relief in the drawing from the Mint, as witnessed by the Sacagawea dollar, all that relief simply doesn't show up when you try to do anything other than a profile. Shallow head-on bas-relief winds up looking weird, no matter what. And doggone it, the nickel looks less like Peale's portrait and much more like Chuck "The Rifleman" Connors--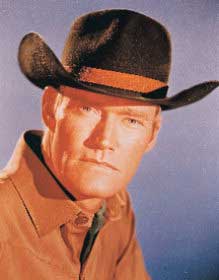 Anyway, if we're intent on doing this kind of silly mess, why don't they come up with a durable way to do full-color portraits on coins? Now, that would be cool.
Posted by Terry Oglesby at October 5, 2005 10:57 AM