5, 4, cue music, 2, and---
WELCOME EVERYONE, to America's Best Loved and Most Popular Day-Themed Meme Experience, The AXIS OF WEEVIL THURSDAY THREE!
And here's your genial host Wink Martindale!!
"Thank you, EVVVVVrybuddy!"
"HEY! That's not Wink Martindale!"
Okay, so we couldn't get Wink on such short notice--he's got a Publix opening in Jackson, Tennessee. But let's not let that get in the way of the exciting season premier of the T-3! 'Kay? MMM-kayyyyyyy!
As you all remember, the Thursday Three was developed by a crack research team at East Carolina University, located in lovely Greenville, East Carolina, with the intent of creating an alternative to the burdensome chore of having to answer all five questions in the long-running Friday Five meme showcase, AND moving it to another day when there isn't as much going on, AND giving the hungry blog-reading public something to read and participate in that is completely FREE!
FREE! I said!
That's right--the entertaining Thursday Three is, as it has always been, completely free of fees, charges, admission price, costs, or taxes, all due to the generosity of our sponsors--Roger's Bargain Village on the Highway 5 bypass loop, and Sparkles and Bows Dance Studio in the SandycreekVu Shopping Center, between the Payless Shoes and the Lucky 777 arcade. When you're in town, be sure to patronize the establishments of these fine folks!
Now then, ON TO THE SHOW! Since we've been in summer hiatus (and working out a contract with the writers) it might be a good time to review the rules of the show. Let's send it over to the lovely and talented Kit, the Wonder Cat, for a full explanation.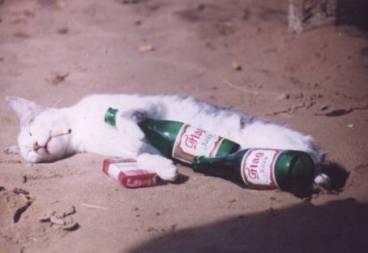 Stupid cat. I knew we shouldn't pay him before the show.
Well, I'll do it then--The Thursday Three is open to everyone who wants to play, even if you can't read or write or anything. It is open to international entrants, even those from such places at Nevada or Rhode Island. You may cut and paste the questions into your own blog and answer them there, and leave a (full and complete) URL in the comments (and yes, this is directed at YOU, Larry) below so we can all find our way to your answers, or if you want, you can just put your answers in the comments if you don't have a blog of your own, or just can't stand the idea of cluttering it up with unnecessary twaddle.
SO, let's find out what we're playing for today--we turn it over to Possumblog Sport Center's newest Football Pickin' Chicken, "Lil' Joe Biden," for an answer!
Today's Grand Prize is....
A BUY ONE, GET ONE FREE COUPON FOR ANY HAIR ACCESSORY AT Sparkles and Bows Dance Studio in the SandycreekVu Shopping Center, between the Payless Shoes and the Lucky 777 arcade!
LET'S GET ON WITH THE GAME! And yes, the questions are actually of a serious nature, quite unlike the setup. Today's questions are about self-reliance.
1. With the recent hurricane that hit the Gulf Coast, it has once again been made obvious that being prepared ahead of time can be the difference between life and death. Do you and your family keep an emergency pack of supplies ready to go at a moment's instant as so many people recommend? What all is in it?
2. If, heaven forbid, anything as destructive as a hurricane or earthquake or fire or flood were to hit your community, and assuming you stayed around or couldn't get out, what are some of the skills you have that you think could be utilized to start the recovery efforts?
3. How safe do you feel in your own community when it comes to disaster preparedness?
SO, there you go. Go off now and fix up your answers and leave them in the comments, or leave a link to your blog. My answers will be up in just a bit.

Okay--sorry about the delay, but I had to go have another meeting with the Exercises in Futility Director.
Now then--#1--We don't keep a big SHTF bag just waiting for, you know, the S to H the F. I do know the things to have in the unlikely event we have to evacuate somewhere, and I do know where they are in the house. Yes, it does waste some time to have to go round all that up in case of Bad Mojo, but knowing what to have on hand does beat just huddling waiting for a government bureaucracy to tell you what to do. And this comes from someone who works for a government bureaucracy. Anyway, we have a sufficient store of batteries, flashlights, travel food, first aid supplies, medicine, clothing, fuel, and yes, firearms and ammunition, to be able to hold out comfortably for three or four days, and uncomfortably for an indefinite period. My wife and I both have had pretty good first aid skills and the general sense to know which situations would be bad to get into. You know, like getting out and playing in flood waters.
#2--Well, more than anything else, I have pretty good organizational skills (no, really, I do--I just hate having to use them), and the ability to keep an even keel. My career choice as an architect would really be rather useless in the first days after something catastrophic, although it would be good to have later on. But if it's a matter of survival, you have to have a clear concept ahead of time about what things are most important to deal with, and rely on that sense of priorities under stress. People get wigged out trying to save items and things and stuff, and neglect personal safety. As for other skills, just a basic willingness to do things seems to be in short supply in such instances. Cleaning up and fixing and doing and scrounging--I'm a whiz at jury-rigging solutions.
3. Pretty good, I'd say. We had a flood two years ago when we had a late afternoon thunderstorm that dropped close to a foot of water in the course of only a few hours, and the Cahaba and everything draining into it went over the banks. It receded pretty quickly, but the whole downtown was out of commission for nearly two weeks, and it was a year before the City Hall and fire station were ready to be occupied again. But city services never really missed a beat--things were done in good time and staff moved all over the place, but it worked out pretty well. But, once again it bears repeating--no one should rely primarily on the ability of others to save you, even if they're good, competent people.
Posted by Terry Oglesby at September 15, 2005 09:08 AM