I'll TELL you what it means!!
It means that today marks the FIRST ANNIVERSARY of the Axis of Weevil Thursday Three! In spite of all odds, in spite of an overwhelming lack of interest, this feature has survived the vicissitudes and vagaries of an ENTIRE 365 days, which is, like, a billion years in blog time, and it means that it's time for something SPECIAL!
IN HONOR OF THE DAY, for today only, the Thursday 3 will be The THURSDAY 31,536,000! That's right--a question for every second in every minute in every hour in every day of an entire year!
SO, since we have so much work to do, let's get right to it, shall we? Our theme, given the fact that we have so many questions, will be a mixed grab bag of queries. (Remember, either leave your answers in the comments below, or leave a link to your answers on your blog. As always, anyone may play along, as long as you have the incredible patience necessary to wade through the whole thing.)
#1) If there was one thing you could change about the way you look, what would it be?
#2) In your house, right now, what is your favorite piece of artwork that you have displayed?
#3) Ahhhh, hmm. What…
Supposing the world ended yesterday, and--uhmmm…
Taking a string and a pencil, which--
This might be a bit more difficult than I imagined. Let's try this again:
#3) through #31,535,998) What person living now would you most like to meet?
There. I suppose three is probably enough for now. ANYway, go answer those and let us know what you think.
As for my answers:
#1--I'd really like to do something with my gut. I've gained and lost weight so many times that my soft squishy middle could really use some lifting and pulling and tucking in and sucking out. Even if I got down to my proscribed-by-the-health-nannies perfect weight, there'd still be a roll around me that won't go away. BUT, it's a moot point--cosmetic surgery just isn't one of those things I can ever conceive of having enough dough to indulge in.
#2--We have a gigantic hand-tinted engraving over our fireplace of Lower Manhattan from around 1855. It was published by F. and G.W. Smith at 59 Beekman Street, New York, engraved by C. Mottram and painted by J.W. Hill. It's been a while since Googled any of this information to find out more about any of these people, but that's almost beside the point when you see the beauty of the thing. It looks like a morning scene after a rain--low clouds to the north, but some sunlight slanting into the foreground, which is chockablock full of a variety of steam and sailing ships, or having their cargo transferred into smaller lighters. You can see the Hudson and East Rivers and the vast flat plain of New Jersey to the west. Church steeples are the highest things on the island. Wonderfully detailed--I sometimes will stand there and imagine being able to walk down the narrow streets and talking to the people on the ships. It has a lot of stories.
This isn't a very good photo of it--it's hard to get a detailed enough picture without getting glare from the flash. Anyway, I think it's pretty darned cool.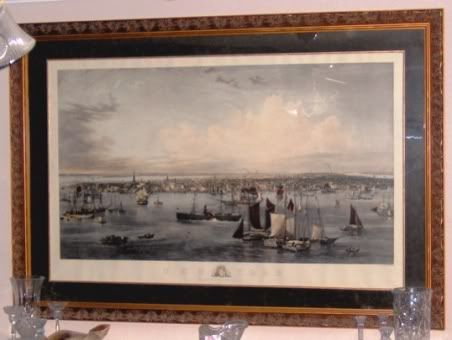 And for Numbers 3 - 31,535,998 -- I have always wanted to meet Denise McCluggage.
So, there you go. Happy Anniversary!
OH! Now I have to go do the mailout for work, so it'll be a while before I get back. Sorry.
Posted by Terry Oglesby at April 7, 2005 08:13 AM